EFC-MAYM Ministry Conference
Coram Deo: Living In the Presence of God
July 25-28, 2019
Barclay College in Haviland, Kansas
The theme for this year's conference is Coram Deo: Living In the Presence of God, based on Romans 12:1 (MSG).
"So here's what I want you to do, God helping you: Take your everyday, ordinary life—your sleeping, eating, going-to-work and walking-around life—and place it before God as an offering."
This year's conference will be focused around the way of worship, part two of our ongoing discussion of how God's people are called to follow Him faithfully as he makes a way in the wilderness.   Just as we emphasized the ongoing, personal practice of prayer at last year's conference, we want to emphasize the ongoing, personal practice of worship at this year's conference.  This is not to underestimate the corporate practices, but to reinforce the reality that our corporate practices will only be as strong as the personal practices that each one of us bring to the wider community of faith.
Our conference theme will be enriched by the ministry of our guest speaker, Jason Porterfield, and it will be reinforced through participation in a wide variety of worship experiences, workshops, and informal conversations throughout our time together during the 148th annual gathering of the Evangelical Friends Church-Mid America Yearly Meeting.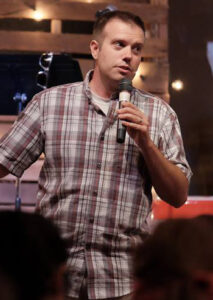 Guest Speaker | Jason Porterfield
From Canada's poorest neighborhood to the slums of Indonesia, Jason Porterfield (MA in Theology, Fuller Seminary) has lived in places most people would rather avoid. His passion is to cultivate God's shalom wherever it is painfully absent and to help churches embrace their peacemaking vocation. Jason is currently writing his first book, Resurrecting Peace: Recovering Holy Week's Forgotten Peacemaker, which trains readers in Jesus's approach to peacemaking by examining how he contended for peace on each day of Holy Week.
In 2007, Jason joined Servants, an international network of Christian communities living and ministering amongst the urban poor. He was a founding member of the Vancouver team, started a new team in Indonesia, and oversaw the North America sending office through 2015.
Today, Jason lives with his wife Laura (daughter of David and Joyce Byrne) and their three kids (Mika, Luke and Jono) in Friendswood, TX. When he's not hanging out with family or volunteering with the Student Ministries at Friendswood Friends Church, you'll find him writing, gardening or drinking coffee.