As we enter into what is likely to be a very different and more difficult Advent season than most of us have ever experienced before, I am reminded of a powerful sermon series that we recently completed at Derby Friends Church.  As far as I can remember, it is the first time I have ever heard a sermon series on the book of Lamentations, but it was extremely timely and deeply formative for our entire congregation
As you may remember, Lamentations was written by the prophet Jeremiah during one of the darkest periods in biblical history.  Following the destruction of Jerusalem and the desecration of the temple in 586 B.C., the Babylonians killed all the sons of Zedekiah, heirs to their father's throne, right before his very eyes. Then they literally gouged out his eyes, bound him with bronze shackles and led him away to their capital city.  Under the extraordinarily cruel and oppressive rule of Nebuchadnezzar, Babylon sought to remove any shred of hope for the people of Israel by taking all but the poorest remaining residents of Judah captive and systematically stripping them of every remnant of their previous way of life.
If you have ever read through the book of Lamentations, you know what a tough slog it can be.  There is a tangible sense of depression and despair that hangs over every page.  The writer offers a window into the soul of a nation that has experienced complete and utter devastation, and he does so without pulling any punches.  The narrative is brutally honest and unfiltered.  It is not light reading, and it is not for the faint of heart.
When we finished our study of this laborious lament, we were invited to prayerfully reflect upon what we read, asking the Lord to clarify any life lessons from this ancient text that we might be able to apply to each of our own lives and ministries in the here and now.  For me, at least, the main point could not have been any clearer:
There are over 3,000 words in Lamentations, but there are only three words spoken by God in the entire book: "Don't be afraid" (Lam 3:57).
These three words are repeated many times throughout the Scriptures, all the way from Genesis to Revelation, but they are always delivered to God's people during times of great distress, either personal or corporate.  Never was this message more needed than during the days leading up to our Savior's birth.
To an ordinary pastor, doing his very best to honor the Lord and bless the people who had been entrusted to his care, praying for the peace of Jerusalem during a Roman reign of terror, all the while living with his aging wife under the shadow of infertility, a social and religious stigma that struck fear in the heart of every faithful servant of God … three words are spoken:
"Don't be afraid … your prayer has been heard, Zechariah.  Your wife Elizabeth will bear you a son, and you are to give him the name John. He will be a joy and delight to you, and many will rejoice because of his birth" (Lk 1:12-13).
To a young Jewish girl, no more than thirteen or fourteen years old, going about her routine chores in the dusty, backwoods village of Nazareth, hoping and praying for a better life, pledged to be married to a man chosen by her parents, suddenly discovering that she is carrying a child that is not her betrothed's, a moral violation punishable by death … three words are spoken:
"Don't be afraid … you have found favor with God, Mary. You will be with child and give birth to a son, and you are to give him the name Jesus. He will be great and will be called the Son of the Most High" (Lk 1:30-32).
To a hard-working Jewish carpenter, a man held in high esteem by his entire community due to his virtuous character and skilled craftsmanship, doing his best to scratch out a decent living in the midst of a volatile Palestinian economy dominated by unscrupulous tax collectors, engaged to a young virgin who is found to be pregnant by no fault of his own … three words are spoken:
"Don't be afraid … to take Mary home as your wife, Joseph, because what is conceived in her is from the Holy Spirit. She will give birth to a son, and you are to give him the name Jesus, because he will save his people from their sins" (Mt 1:20-21).
To Bedouin shepherds, desert nomads wandering in the wilderness, searching for adequate pastureland and shelter from the storm, finding it hard to stay in one place very long, not because they have an insatiable wanderlust, but because they are members of a marginalized ethnic minority, victims of systemic prejudice and discrimination … three words are spoken:
"Don't be afraid … I bring you good news of great joy that will be for all the people. Today in the town of David a Savior has been born to you; he is Christ the Lord." (Luke 2:10-11).
In the midst of one of the darkest and most desperate periods in human history, God went out of His way to speak light and life into the worn and weary souls of an old pastor, a young virgin, a hard-working carpenter and a marginalized band of desert nomads, all of whom became the very first recipients of the greatest miracle our world has ever known.  In fulfillment of God's promise, the Messiah was born, signaling the advent of a new age when fear would be displaced by faith in the hearts of everyone who was willing to receive Him and live under the liberating rule and reign of Jesus Christ, our newborn King, suffering Savior and risen Lord.
So take courage, my friends.  We serve a great and mighty God.  His name is Yahweh, the great I AM.  He is the God of Abraham, Isaac and Jacob, and He is the God of Zechariah, Mary, Joseph, and yes, even the most marginalized, misunderstood and mistreated among us.  He is also the God of George Fox, Margaret Fell and William Penn, not to mention every other faithful friend of Jesus throughout the world today.  He is the Lord of life, not death.  He is the agent of healing, not disease.  He is the author of love, not hate.
As we celebrate the 2020 Advent season, I don't believe it is a coincidence that we are completing the ninth month of the COVID era in our country.  I am convinced that the labor pains we have been experiencing in recent days are leading to the birth of many new miracles among us.  I don't know exactly when, where or how the Lord may manifest His transformational presence and power in our midst.  My guess is that He will show up at many unexpected times and in many unexpected places.  He may provide us with power to escape pain and suffering, or He may provide us with power to endure pain and suffering.  But there is one thing we can say for sure.  Wherever and whenever the Lord is about to do something new and wonderful among us, no matter how strange or scary it may seem at the time, it will always be accompanied by a familiar refrain:
"Don't be afraid!"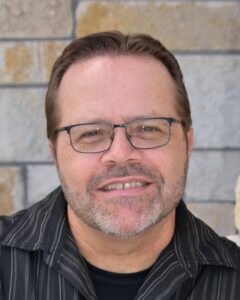 David Williams
Lead Superintendent