During the first week of January 2017, some of us will travel to Nepal to celebrate John and Sangi Vanlal's almost 40 years of ministry. You can join this celebration by contributing to a love offering that we are collecting between now andDecember 15.
The Vanlal's ministry has unfolded like this:
1978-1983 | Missionaries in the state of Assam, India under the Presbyterian Mission Board of Mizoram (PMB)

1983-1990 | Missionaries in Nepal under the PMB and the United Mission to Nepal

1991-1994 | Manager and principal of the Chhatarpur Christian High School in Central India under Evangelical Friends Church – Eastern Region (EFC-ER)

1994-2016 | Missionaries in Nepal under Evangelical Friends Mission (EFM)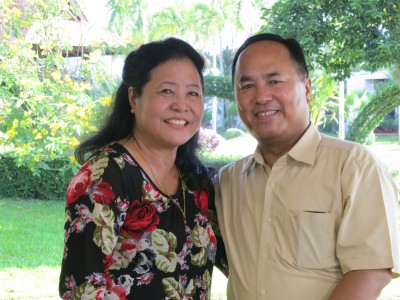 Over the last 22 years as missionaries with EFM, the Lord has used the Vanlals and their leaders to plant over 40 Friends churches in various regions of Nepal. They also organized the churches into a yearly meeting called Evangelical Friends Church – Nepal (EFC-Nepal). There are more than 4,000 Friends in EFC-Nepal.
Many of their leaders, along with a delegation from the US, will be meeting in the capital city of Kathmandu on January 4-6 to celebrate the Vanlal's ministry. Shortly thereafter, John and Sangi will move back to Mizoram, India where they will begin a new chapter in their lives called "retirement." Although they look forward to being closer to some of their children and grandchildren, they also look forward to finding new avenues for ministry.
We wish you could come with us for the big celebration in Kathmandu, but since you probably won't make it, you can still participate through a love offering that we will present to John and Sangi when we are with them. Please send your gifts to our EFM office by December 15 at the latest. 
Options for how to give to the John and Sangi Vanlal Love Offering:
You may give online at friendsmission.com/donate now . Under "comment," please type "Vanlal Love Offering."
You may give by credit card over the phone by calling EFM at

303.421.8100

.

You may mail a gift to EFM, PO Box 525, Arvada, CO  80001.  Please include notation for "Vanlal Love Offering."
Please keep John and Sangi and EFC-Nepal in your prayers as they all go through some major transitions in the months to come. Thank you for your gifts and prayers.
– Dan Cammack, Executive Director of EFM
NOTE: EFM and EFC-Nepal will continue our partnership to plant churches in Nepal, so we will keep you informed about our ongoing need for financial support. Even though the Vanlals will no longer be in Nepal, there will still be many opportunities to pray for and give to this important ministry.
Thank you for your prayers. If you would like to be part of our prayer and financial support team, further information is available at friendsmission.com