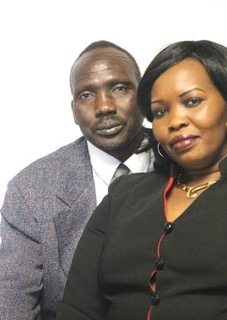 Lazarus John, pastor of the Sudanese Evangelical Friends Church in Omaha, Nebraska, is currently on a two-month exploration trip to South Sudan and the border city of Gambella, Ethiopia (Gambella is ethnically Sudanese and a stable base for operations). He is visiting leaders who have been leading and planting churches under the name of Evangelical Friends Church. Please pray for Lazarus as he makes this difficult journey, and for his wife, Veronica, and their family and church, as they continue on in Omaha while Lazarus is away. Thank you to all of you who have already been praying for Lazarus and have supported him financially for this Luke 10 trip.
Here are some of Lazarus' objectives:
To visit the Great Upper Nile, Great Equatoria, and Great Bahra Ghazal regions in South Sudan and the Gambella region in Ethiopia.
To visit new churches that have been planted over the last six years.
To further discern possible relationships with EFM and/or EFC-Rwanda and EFC-Africa, including the role Lazarus and his family would have in these relationships.
To assist with the registration and licensing of churches in South Sudan and Ethiopia.
To train church leaders in discipleship and Friends church-planting structures.
To lead in the preparation of self-sustainable financial strategies.
To clarify organizational structures for local, regional, and national leaders.
To build relationships and healthy communication patterns.
To establish a unified vision of Evangelical Friends for an exciting future.
Other missions-sending news in Central Africa:
Please pray for Rwandan Friends as they are currently planting worship groups and churches in Kampala, Uganda. EFM is partnering with Rwandans who are discipling and training both Ugandan and Sudanese leaders who currently reside in Kampala, seeking the right leaders who might plant other churches in Uganda or South Sudan in the future. Rwandan leaders are also making Luke 10 exploration trips to Juba, South Sudan, as they discern where or how they may begin a new mission to plant the seeds of a new yearly meeting in South Sudan.
Please pray for Burundian Friends as they continue a missions-sending objective in Kigoma, Tanzania. They have a handful of churches and worship groups in the Kigoma area, including some Burundian and Congolese refugee camps, with a base church building on property in the outskirts of Kigoma. The current leader in Tanzania is Mopendo, a Muslim back-ground believer who was led to Christ through a dream and later joined Friends via Congolese contacts. He is working with Burundian leaders to get the church, a seed for a new yearly meeting, registered with the government.
Thank you for praying for these African missions-sending efforts among Friends! It is also wonderful to see EFC-Africa and FUM African leaders being transparent with each other, partnering where it makes sense, and always cheering each other on in the Great Commission!
– Matt Macy, Associate Director of EFM
P.S. Please make note of EFM's current mailing address: PO Box 771139, Wichita KS 67277. Although the USPS is to forward our mail for 12 months, we have heard of some mail being returned to sender.