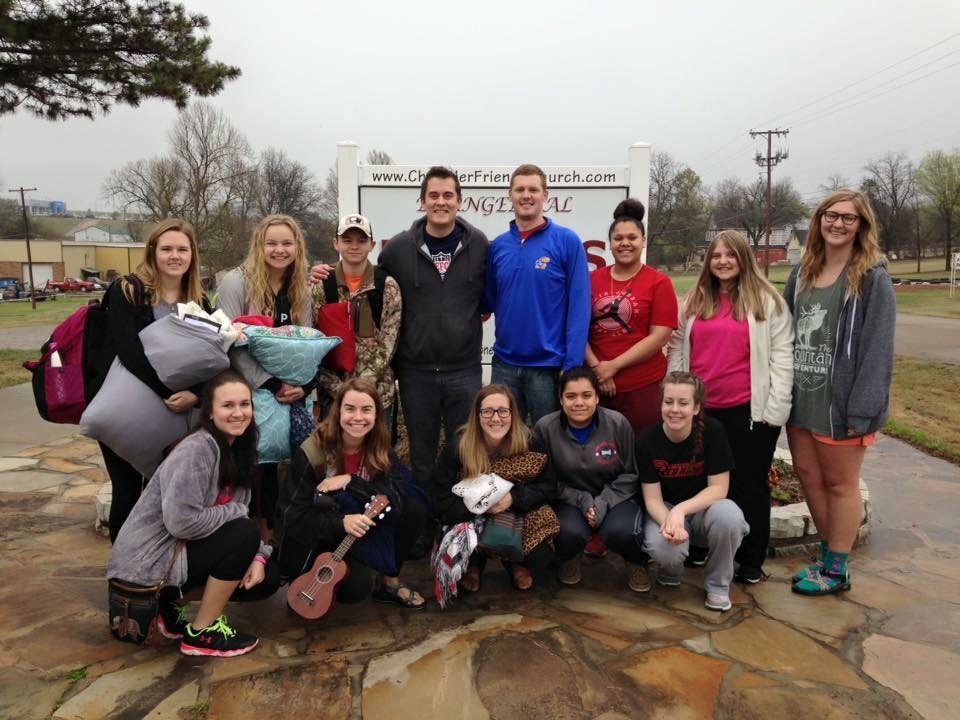 "Team Aura" was made up of not one single church community but actually four. Thirteen people from Rose Hill Friends, Chandler Friends, Iglesia Amigos Wichita, and Friends University led by Associate Pastor Gabriel Hancock (Rose Hill) and Family Life Pastor Keith Reeser (Chandler). Despite the great challenge of bringing a diverse group together where many met as they loaded in a van for the 12+ hour drive, this also brought great blessing as we saw the Great Commission fulfilled outside of ourselves, from both American and Mexican perspectives. It was a reality that we consistently saw and appreciated – we truly are better together than we are separate.
San Jose de Aura, Coahuila, is a relatively small carbon-mining village about 10km away from the beautiful Sierra Mountain range. The church, Redimidos en Cristo, is in the discerning process of joining Iglesia Amigos Coahuila under leadership of Pastor Vicente Cantu and his wife, Victoria. This is the first time in Spring Invasion's existence that an American Friends Church team served in Aura! This brought both great challenges and great blessings! It seemed especially disorientating as we ironed out a schedule of ministry opportunities and other logistics early on, but also reaped the harvest of the "untapped aura" of Aura through ministering to children, service in work projects, and connecting with and encouraging members of the church.
Since Vicente also serves as pastor in La Luz, a neighboring village even closer to the mountains, we were able to serve two communities through children's ministry. On day 1, we had about 40 students (and their moms) in attendance where they learned about how it was God that made them. It was during this time where we reaped the most significant known fruit – many of the children's mothers were shared the gospel by Pastor Vicente and four of them received Christ into their hearts for the first time! On day 2, we went to La Luz and shared with a new group of children how much God loves them. When we started that evening, there were zero children in attendance – it was literally just us Americans playing volleyball and soccer. But eventually they came out and we had about 20 children. Following VBS, Team Aura led a service at the church of La Luz where students shared testimonies and music, and Pastor Gabe and Pastor Keith both preached sermons. Day 3 we returned back to Aura for children's ministry and the kids were so excited that we had returned to play with them and sing songs. We ended this final day of VBS the only way we knew how – with a piñata full of candy!
The work project for the week was replacing a drop ceiling in the sanctuary and adding it in the hallways and anywhere else we had time for it. Being a team of ten girls and three guys, we weren't very confident in how we'd be able to get anything done. But once again, because we are better together than separate, work project director Ralph Corbet provided us with some helpful reinforcements from Northridge and Haviland who filled in for daily stints. With the extra hands, we got more accomplished than any of us could have expected. God provided what we needed and we were able to get a big chunk of the new drop ceiling vaulted in the sanctuary with new fluorescent light fixtures along with a drop ceiling added to the church hallway.
Some God moments that we want others to know about were how God showed up in the midst of all the unknowns. We didn't know who our translators were, but yet God used them mightily, and they did wonderful. What a blessing to be a part of these girls first time translating as well as sharing the gospel to our brothers and sisters in Mexico. We didn't know if we were the right team for the work project we received, but yet the completed project far exceeded our sensed limitations. We saw many students answer the call to walk forward during our last service with Pastor Samuel and Adam Monaghan. It was such a sincere, overwhelming experience to see so many answer the call to missions! Lastly it cannot go lightly stated how much of a blessing it was to have two people in leadership over a group so that neither had to take on all of the stresses of the trip. God definitely granted us with a great trip!
As we returned to America to our home churches, what did we learn? We learned that it's always best to serve and to serve with joy. We learned that God can use people at any age if we are just willing and available. We learned what laughter was like, even when it crossed the language-barrier. We also learned that when the enemy is threatened, he will do anything to destroy, deter, and discourage. If it's true that "the greater the disorientation, the greater the amount of learning" then we learned a lot! ¡Gloria Dios!
– Bueno Bueno, Gabe Hancock & Keith Reeser