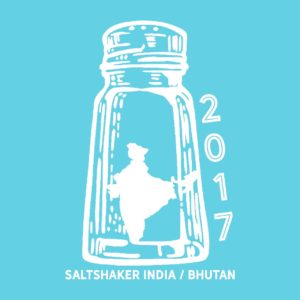 We landed in Kolkata around 4 in the afternoon on Tuesday where we were eventually greeted by D.K. and Choity. From there we drove to Seva Kendra (our Catholic mission guest house) and dropped off our bags before going to dinner. We drove across town and went to a really nice restaurant. D.K. said that it was authentic Bengali food. I thought it was really good!!!
At dinner we had an impromptu "program" right in the middle of the restaurant that included us giving testimony speeches and performing Boom Chicka Boom, of course. Many of the youth came as well as the EFM Kolkata team. Many speeches were given about how the trip had influenced the team and the youth. They all were very touching and inspiring to hear. Our main course was made up of chicken, fried potatoes, egg plant, fish, and of course rice and lentil soup. For dessert we had a cake that Alec got to cut with a "sword", celebrating his baptism. Following the food, we took lots of pictures with the group so we can remember it forever!
Wednesday morning we woke up and had breakfast and devotions at Seva Kendra, where we started the debriefing and processing phase of our trip, according to Adam. We were then picked up by the bus and we loaded everything into it before heading out to visit a few of the important sites of Calcutta with Choity. We went to see Mother Theresa's Home for the Dying. It was placed right next to one of the most popular Hindu temples to the Goddess of destruction, which we also visited. It was crazy to see the contrast between the two places. Afterwards, we went to the Ganges River and got to see the bridge that runs over it. We went to the Queen Victoria Memorial and then the St. Paul's Cathedral. I really enjoyed getting to see the architecture and learn about the history of the sites. Our last spot was the Ganges River where the Hindus immerse themselves for a ritual pilgrimage believing it to be holy water. After that we grabbed some pizza at Dominos which was a nice "slice" of home (see what I did there).
We drove to the EFM Kolkata office and shared in a time of worship and sharing our testimonies of what the trip meant for us. It was a very emotional time and many of us were in tears. We had more cake and gave them our gifts. They were very kind and gave each of us a mug with our name on it and a picture of the EFM Kolkata team. They are amazing people and we will miss them so much!
We drove to the airport where we said our goodbyes to D.K., Choity, and Manti. I think I speak for the whole team when I say that they have become family to us and we will miss them dearly. We checked in and we are now flying over somewhere in India. We have a long day of traveling ahead of us, so please pray that we make it safely with little complications.
This has been an amazing trip and I have been so blessed by it! It has no doubt been a life changing experience and I have left a piece of my heart both in India and Bhutan. Thank you so much for all the prayers and support!
Bailey Pohlman
Northridge Friends Church