1UP | Hebrews 12:1
GRADES 3-6 | June 4-8, 2022
Camp Quaker Haven | Arkansas City, KS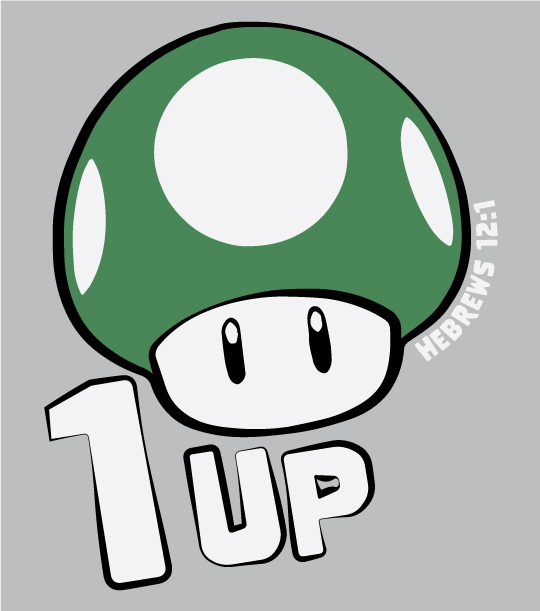 REGISTER ONLINE AND PAY $75 DEPOSIT BY MAY 18 TO AVOID A LATE FEE OF $35 PER CAMPER!

REGISTRATION DEADLINE IS MAY 18, 2022

Please mail payment to EFC-MAYM, 2018 W Maple, Wichita, KS 67213, or pay online.
Price includes all scheduled programming, camp t-shirt, meals, lodging, and on-site activities.
Camp Directors | Shawn Penrose and Katie Stratton
Join us for our 1UP Kids Camp, where we'll learn how to push past obstacles and problems that we might come across in our walk with God. We'll play Mario-themed games/activities and learn how to work as a team, like we do as the Body of Christ.
| | |
| --- | --- |
| Day 1 | |
| 1:00 – 3:30 pm | Check-in |
| 2-4pm | Free Time |
| 3:30-4pm | Counselor Meeting |
| 4-5 pm | Welcome Fiesta |
| 5:30 PM | Dinner |
| 6:30-7:30 pm | Chapel |
| 7:30 – 8:15 pm | Cabin time |
| 8:30 – 10 pm | Night swim |
| 10:30 PM | Lights Out |
| | |
| Day 2 | |
| 7:15 AM | Counselor Meeting |
| 8:00 AM | Breakfast |
| 9:00 AM | Morning Show |
| 10:30 AM | Morning Game |
| 12:00 PM | Lunch |
| 1-2 pm | FOB/5&6th |
| 2-4 pm | Free Time |
| 4-5:00 pm | Cabin Activities |
| 5:30 PM | Dinner |
| 6:30 – 8pm | Game |
| 8:00 PM | Chapel |
| 9:00 PM | Cabin Time |
| 10:30 PM | Lights Out |
| | |
| Day 3 | |
| 7:15 AM | Counselor Meeting |
| 8:00 AM | Breakfast |
| 9:00 AM | Morning Show |
| 10:30 AM | Morning Game |
| 11:00 AM | Morning Game |
| 12:00 PM | Lunch |
| 1-2 pm | FOB/5&6th |
| 2-4 pm | Free Time |
| 4-5:00 pm | Cabin Activities |
| 5:30 PM | Dinner |
| 6:30 – 8pm | Chapel |
| 8:00 PM | Cabin Time |
| 9:00 PM | Night Game |
| 10:30 PM | Lights Out |
| | |
| Day 4 | |
| 7:15 AM | Counselor Meeting |
| 8:00 AM | Breakfast |
| 9:00 AM | Morning Show |
| 10:30 AM | Morning Game |
| 11:00 AM | Morning Game |
| 12:00 PM | Lunch |
| 1-2 pm | FOB/5&6th |
| 2-4 pm | Free Time |
| 4-5:00 pm | Human Mario Party 1 |
| 5:30 PM | Dinner |
| 6:30 – 8pm | Human Mario Party 2 |
| 8:00 PM | Chapel |
| 9:00 PM | Cabin Time |
| 9:30-10 PM | Bonfire/S'more Celebration |
| | |
| Day 5 | |
| 7:15 AM | Counselor Meeting |
| 8:00 AM | Cabin Check-out |
| 9:00 AM | Breakfast |
| 10:00 AM | Goodbye |
Scheduled
Uncategorized